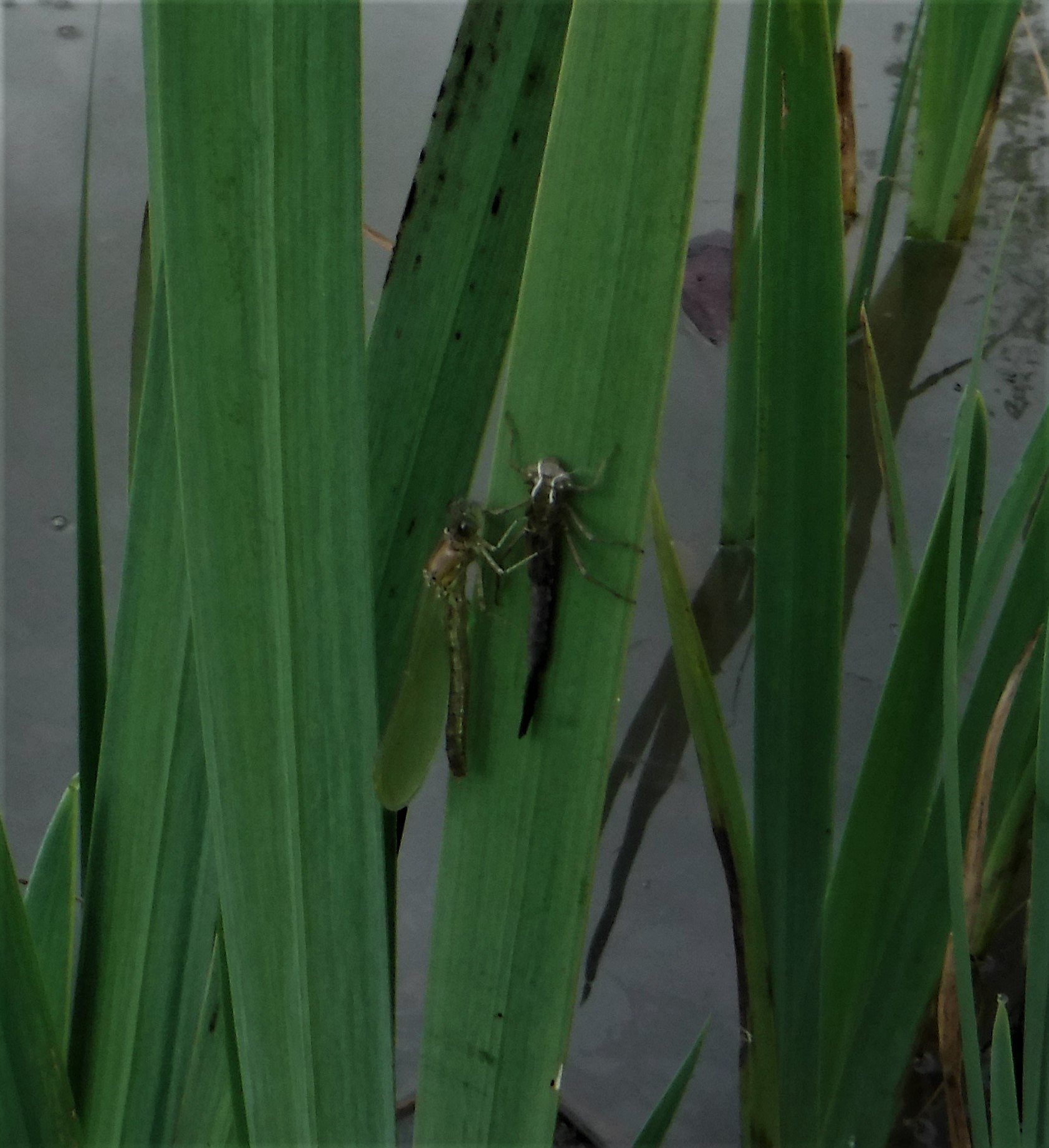 Total monthly rainfall: 31mm. Maximum daily rainfall: 25.5mm (28th April).
Altogether there were 4 days when measurable rain fell, and 10 days when cloud-cover reached 100% for at least part of the day. Unusually, it was an April with almost no April showers!
Maximum temperature on the warmest day was 24°C on the 11th and 23rd. On the coldest day it was 10°C on the 1st and 28th. There were 9 days in the month when the temperature reached at least 20°C. On 6 days during the month fresh-to-strong winds brought down many twenty-to- thirty-year old trees and snapped trunks and branches of many others.
Seven new wildflower species flowered this month, bringing our total for the year so far to 26. Yellow archangel began on the 3rd, followed by ground ivy on the 6th. Bugle flowered in the wood on the 10th, while garlic mustard appeared in the hedgerows on the 11th. Cow parsley showed in ditches and pond-edges on the 17th, and both creeping and meadow buttercup began to bloom in the fields on April 30th.
Wild bird activity began to increase this month as the nesting and migration season began. On April 4th a Canada goose went broody on one of our islands, while next day (5th) we saw a blackcap on a woodland-boundary willow. On the 8th we greeted the return of our first swallow on the usual telephone cable, and welcomed 6 mallard ducklings on the 11th – the same day we heard a willow warbler in the wood. Finally, we heard the first cuckoo on the 23rd, some distance away, and then in our woodland – a pattern repeated daily thereafter.
It was a good month for butterflies, starting with a bright yellow male brimstone in our ride on the 4th. We saw a speckled wood rise from a sun-spot on the woodland floor on the 7th, followed by an orange tip and a green-veined white in our sunny garden on the 8th. On a windy but wind-sheltered hawthorn in our woodland ride, we discovered a holly blue on the 13th – bringing our butterfly species for the year so far to eight.
Moth-related sightings also began to increase in the second half of the month. The first of many green-oak tortrix moth caterpillars dangled from oak and hornbeam trees in our wood on the 17th. Many landed on us and got caught in our hair. We saw birds with their beaks full as they flew to their nests to feed their chicks. On the 21st over 60 longhorn moths "danced" around oak trees and hazel bushes in our ride – increasing to over 200 two days later. Brown-oak tortrix moth caterpillars added to the supply of chick-food on the 25th, and hopefully some of these will provide enough moths to lay eggs for next year's moth population.
Since December 2019 we have been, following the progress of up to 600 sixteen-spot half-grown ladybirds hibernating for the winter. By the end of March, they had reduced in number to about 50, and had not grown in size during that time. On April 8th, with the temperature at 23C, they were dispersing down the fence-posts towards the ground and there were 37 remaining. The last few disappeared on the 10th – the same size as we first saw them last December.
One dragonfly and three damselfly species emerged this month. On a sunny 12th April, 3 large red damselflies appeared on marsh marigold leaves in our small garden pond, where we collected 2 exuviae. On April 24th – also very sunny – three downy emerald dragonflies emerged around our small lake, and again we collected 2 exuviae. We also spotted 2 blue-tailed damselflies, but were unable to find any exuviae. Finally we found a red-eyed damselfly with exuvia on the 29th.
Many other insects appeared this month, including a crane fly on the 6th, beside a woodland pond; a queen wasp on the landing window (7th); a common carder bee on snake's head fritillary (8th); an alder fly on soft rush at a woodland pond (16th); a pond skater on a woodland pond (18th), and, on April 26th, the first few of hundreds of St. Mark's flies, so thick that on walks we could not avoid bumping into them.
Other creatures we discovered were a water shrew beneath a pond-side reptile shelter (April 4th); a large number of small black woodland ground spiders (6th); a grass snake beneath a reptile shelter in the woodland ride (21st), and a common lizard basking in the sun on an old railway sleeper (25th).
Finally, we come to spring indicators on our trees and shrubs:
1st April – Dog rose leaves started to appear.
6th April – Horse chestnut leaves started to open.
7th April – Poplar catkins, buds and leaves appeared. Oak buds opened.
9th April – Oak leaves started to appear.
11th April – Crab apple blossom started to appear.
15th April – Beech, red oak and ash buds opened. Hawthorn started flowering.
18th April – Beech and ash leaves started to appear.
22nd April – Horse chestnut began flowering.