Field Grasshopper Chorthippus brunneus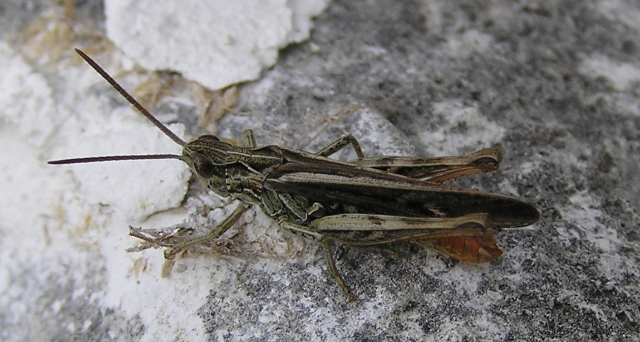 Field Grasshopper. Photo R I Moyse.
The Field Grasshopper is one of the commonest and most widespread grasshopper species in the UK, and can be abundant where habitat conditions are suitable. It prefers short or open grassy habitats in dry, sunny situations, and so can be found on open grassland, road verges, in parks and gardens, on waste ground, and in open coastal habitats. It generally avoids the kind of dense and more closed grassland habitats, such as pasture land, used Meadow Grasshopper and Lesser Marsh Grasshopper.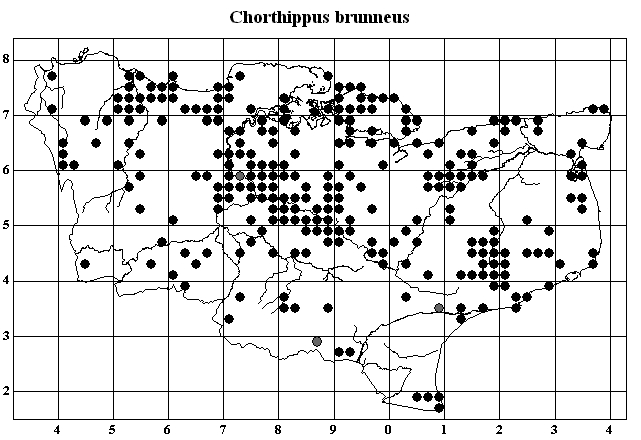 Records for Field Grasshopper in Kent. Like the Meadow Grasshopper, this species is probably almost ubiquitous, and is significantly under-recorded.
Meadow Grasshopper Chorthippus parallelus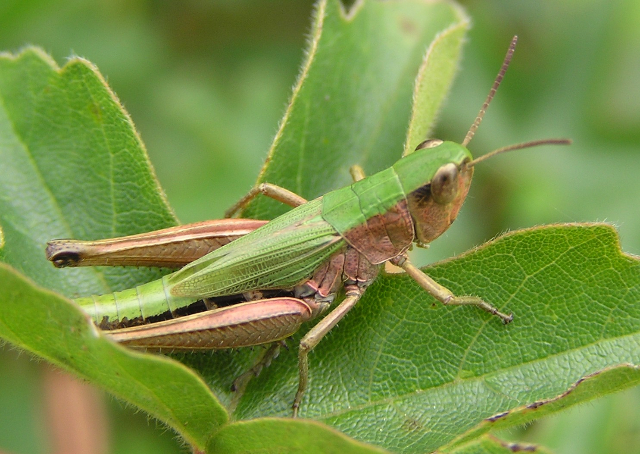 Female Meadow Grasshopper. Photo R I Moyse.
Meadow Grasshoppers are very common and widespread, occurring in a wide range of grassy habitats, particularly in tall, coarse or well-vegetated grasslands in reasonably moist situations. They can reach high population densities in such habitats, where they are fairly easy to detect by disturbing the vegetation. Females have only vestigial wings (though a long-winged form does occur occasionally), meaning that they are easily distinguished from other grasshoppers and cannot fly.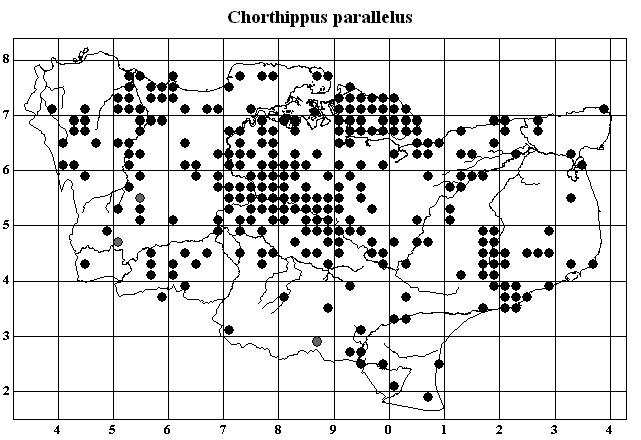 Records for Meadow Grasshopper in Kent. The species is probably more-or-less ubiquitous and is undoubtedly uner-recorded.
Lesser Marsh Grasshopper Chorthippus albomarginatus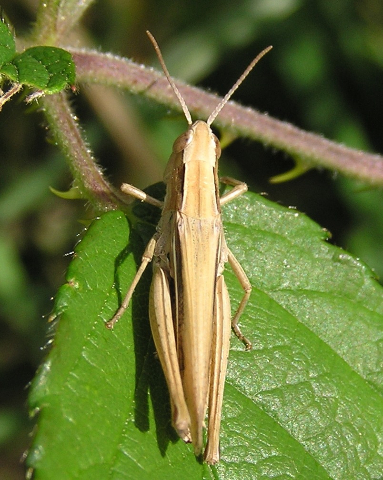 Lesser Marsh Grasshopper. Photo R I Moyse.
Although the Lesser Marsh Grasshopper appears at first rather plain and undistinguished, it is relatively easy to pick up the 'jizz' of this species, particularly the shape of the pronotum (slightly, but noticeably, more parallel-sided than in Meadow Grasshopper) and pale, straw colour. Lesser Marsh Grasshoppers can be found occurs in a range of grassland habitats around the coast, where they can be very abundant. They also occur along some river systems, and in a few other inland locations, including some woodland rides in The Blean.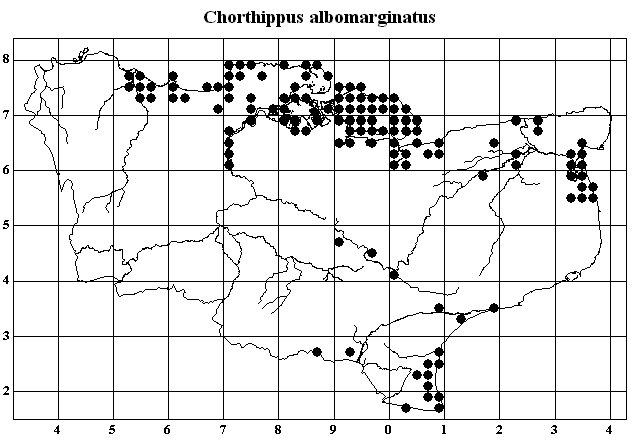 Records for Lesser Marsh Grasshopper in Kent.
Maps produced using DMAP by Dr Alan Morton.